Webstores is a 50-person digital agency based in the Netherlands, and one of Sulu's first official partners. When Stern — a full-service mobility company — approached Webstores to build a new web project, Webstores used the Sulu CMS to bring five existing websites and 17 brands into a streamlined digital experience. "We choose Sulu as the CMS for most of our projects because of our 'best in breed' philosophy," says Frank Klein Koerkamp, Webstore's Operational Director. "We choose the tech stack that best addresses our clients' challenges and like using technology that excels at what it does, but doesn't try to do everything."
A request for streamlined processes across brands
Stern offers a platform for buying, renting, leasing, and servicing different types of vehicles. When they approached Webstores, they had three main challenges: a disjointed approach to SEO, five websites to merge into one, and the challenge of selling 17 brands of vehicles, from Mercedes-Benz to Volvos — each with its own unique branding guidelines.
Stern's marketing professionals worked on individual brands, and they needed to be able to reuse content and establish clear-cut user permissions and roles. With five websites running on five different versions of a CMS, their former processes for sharing content were fragmented and unsustainable.
According to Frank Klein Koerkamp, Webstores's Operational Director, "Stern had a list of things they wanted in a new digital platform, and we could check 80% of those features off that because they came by default with Sulu."
How Sulu's "Blocks-First" approach matched Webstore's Lego Thinking
Up until 5 years ago, Webstores built their own content management system for each client. When they decided to look for a more sustainable approach, their developers looked for a Symfony-based CMS and began working with Sulu. "Every project requires some amount of customization and, as an agency, we need the ability to develop quickly and share deliverables often. We chose Sulu for Stern because it has a total Symfony ecosystem with packages and bundles that make new features easy to implement," says Klein Koerkamp.
Since Stern is an authorized dealer for 17 brands of automobiles, in Sulu terms, this meant they needed 17 webspaces, each with a common set of components. Webstores approached this challenge with a concept they call "lego thinking". Much like Sulu's "Blocks-First" approach, this means breaking down every web page into basic content blocks. The resulting pages have a consistent look and feel, while still retaining a high level of flexibility and customizability.
"If you have a car from Volkswagen or a Seat, the machinery under the hood is always the same, but their appearance is different. That's how we thought about the design and user experience of the Stern platform," says Christian Schoorlemmer, Webstores' Head of UX. "Each brand had strict design and styling requirements. With Sulu, we created one central library of components for Stern, but were able to apply different designs for those components on a brand-by-brand basis."
More conversions and leads than ever before
Merging five sites into one allowed Stern to unify their approach to SEO, which was amplified by Sulu's built-in SEO features, including semantic content elements and automated canonical redirects. "Once we centralized the handling of all conversion flows and unified the different lead flows, the internal team were inundated with all the requests coming in," says Klein Koerkamp.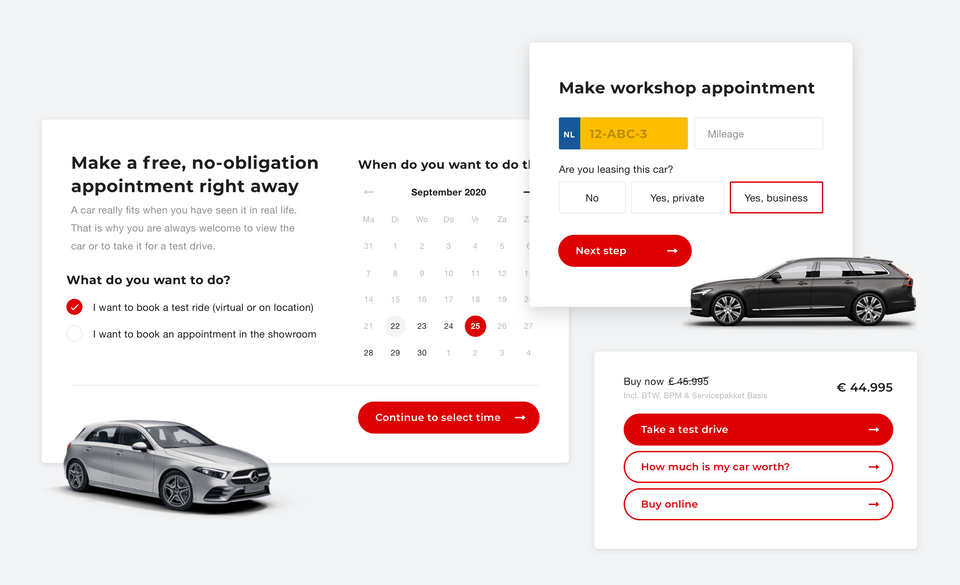 Sulu's built-in page structure also gave Webstores more flexibility when they reconstructed the hierarchy of pages on Stern's website. Now, Stern's marketers can input call-to-action blocks in the top navigation, switching out different calls-to-action based on each page and customers' needs.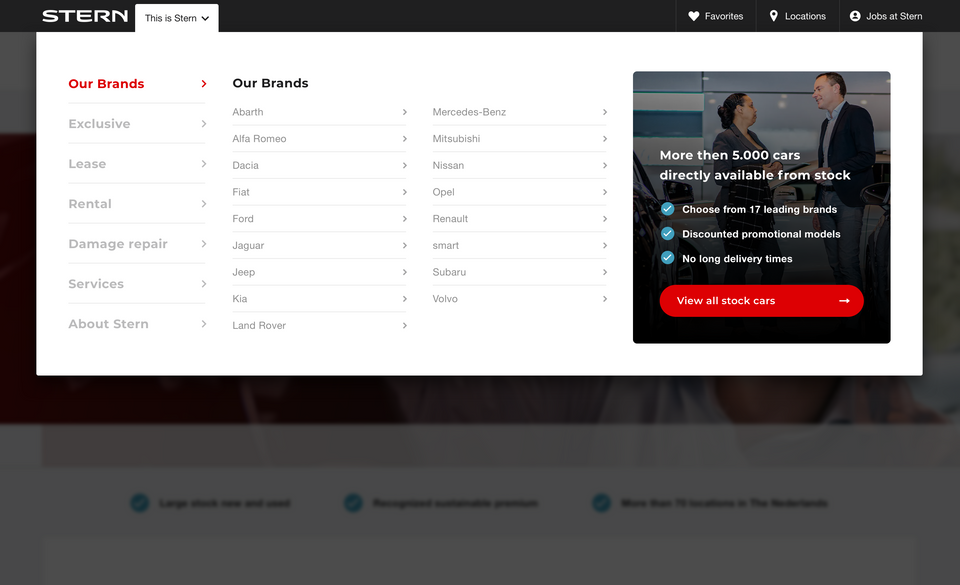 Enhanced responsiveness to customer personas
Stern's mobility business has several different user personas:
personal car consumers,
company car drivers,
transit van operators,
truck drivers, and
consumers looking for high-end, exclusive automobiles.
Each kind of persona has different concerns when it comes to buying, renting, or leasing a car. Rather than create a cookie-cutter template with the same layout and specifications for each persona, Sulu's blocks-first approach gave Webstores more flexibility to tailor Stern's content to their user personas' specific needs.
"For consumers looking for personal cars, we wanted the page to be really visually appealing, so we put more visual information up top," says Schoorlemmer, "But commercial vehicle drivers are more interested in the technical specifications of a car than how it looks, so we highlighted those first. Sulu's block-first approach let us create different page structures based on different personas."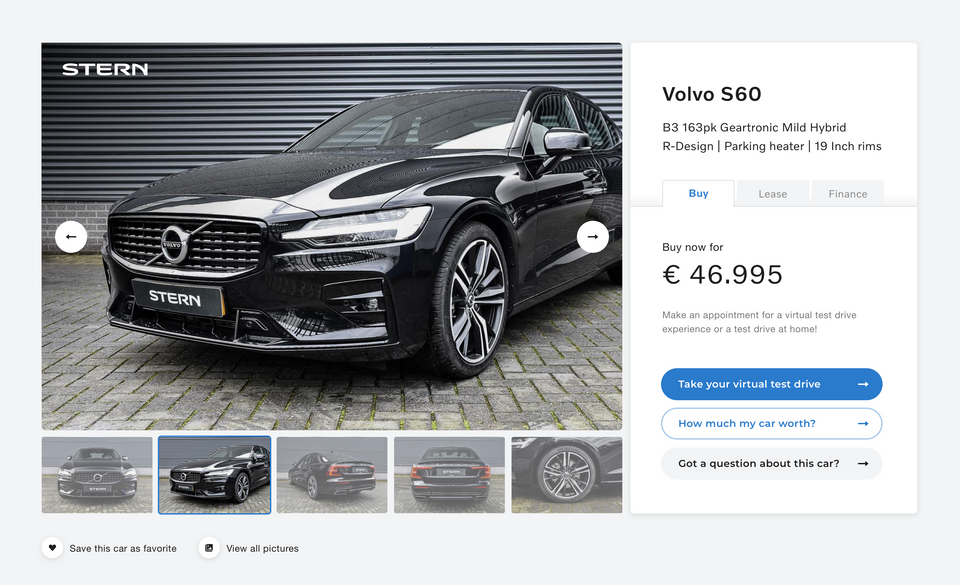 Long-term digital partnerships, supported by Sulu
Webstores will continue iterating on Stern's web project, refining their audience targeting and creating even greater flexibility within content blocks. "We act as a digital partner to our clients, which means that the bulk of our work begins after we deliver the initial project," says Klein Koerkamp. "We're continually improving their digital platform, and many of our customers have been with us for over 10 years." As a partner, Sulu helps Webstores establish those long-term relationships and continued growth.
Concept, design and implementation by