Bachmann electronic GmbH is an international company involved in three primary industries: energy, industry, and marine & offshore. They reached out to MASSIVE ART, a full-service digital agency and Sulu partner, to revamp their website. Bachmann was aware of MASSIVE ART's work and was already pleased with what they had seen, making MASSIVE ART a natural choice.
A design and usability refresh tailored to Bachmann's customers
Bachmann's previous website design looked and felt old-fashioned; they wanted a modern, overarching rebrand that would appeal to their highly technical customer base. Bachmann also wanted their website to represent the company more accurately, as an innovative, internationally successful business, with a broad and deep range of expertise.
Bachmann caters to four sections of industry:
Automation
Grid Measurement, Protection, and Control
Visualization and Operation
Condition Monitoring System (CMS)
For each area, they provide software and hardware solutions, training, technical documentation, one-on-one consultations, and downloadable resources.
A key part of this modern rebranding was improving the user experience (UX), especially in the navigation. Workshops between MASSIVE ART and Bachmann revealed different customers were using the same product differently. This research highlighted the need to provide multiple navigation paths to the same end-point, to cater for different user behavior. UX research also showed users struggled with Bachmann's event calendar and the global office locator.
Bachmann also wanted to present itself as a holistic solution provider, in contrast to the old website, where single products were the focal points. With the new website, Bachmann wanted to showcase their expertise through a clear framework of the systems, modules, resources, and products available to their customers.
Bachmann used Sulu to revamp their website on several levels
User-Friendly Navigation, Office Locator, and Event Calendar
MASSIVE ART needed to build a layered, multi-path navigation that intuitively and effectively guided users to the products and solutions that would be most helpful to them, no matter their start point. This was a challenge considering the depth of Bachmann's systems, but Sulu's product tree simplified the process for MASSIVE ART. To further encourage usability, MASSIVE ART displayed breadcrumb navigation, ensuring users would never get lost.
"Sulu made it possible to link the same product in different navigation paths." — Claudia Mangold Arias, Head of Experience at MASSIVE ART WebServices GmbH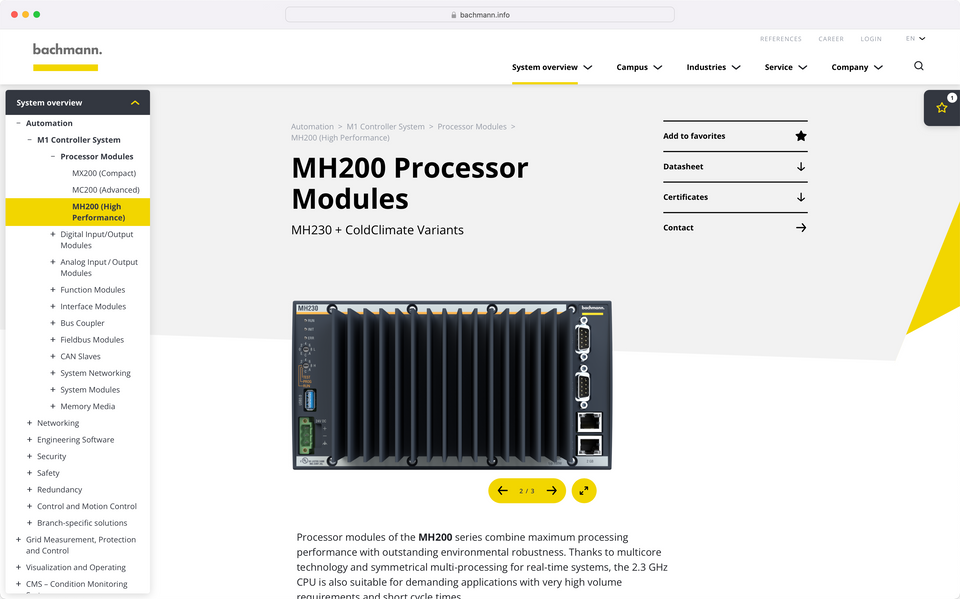 MASSIVE ART also helped update Bachmann's office locator page to be more helpful and user-friendly. On the old website, users were eager to engage with the map, but it was clumsy to operate. Using Sulu, MASSIVE ART was able to help users filter by company, country, contact, and more. MASSIVE ART made operating the map easier and smoother, as well as clearly showcasing how international a company Bachmann is.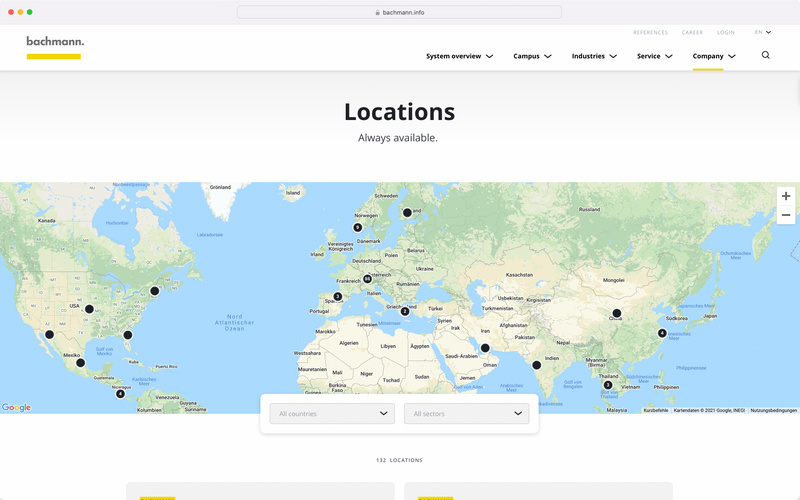 MASSIVE ART overhauled Bachmann's Event and Exhibition Calendar, which previously had to be manually maintained and updated. Sulu made it easy to create an event module extension that automatically removes past events, sets recurring events, adds categories, and filters events by industry, date, and more.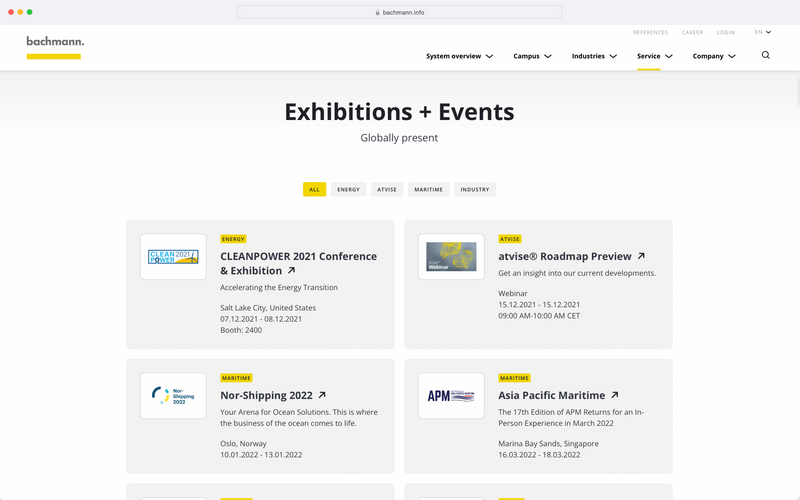 Bachmann as a Holistic, Knowledgeable Solution Provider
Bachmann has much more to offer than just products. They offer one-to-one consultations, system modules that can be mixed and matched, training courses, workshops, certifications, and a wealth of technical resources and documents. They wanted their website to show the full extent of their offerings. "Bachmann has a lot of expertise, and it's very important for them to share their know-how with their customers through their trainings and technical documentation." says Claudia Mangold Arias.
MASSIVE ART used Sulu to revamp Bachmann's Training Center, (part of its "Campus") to be more sophisticated. The new Training Center contains an overview of all the training Bachmann provides, from basic trainings, user trainings, programming, to condition monitoring and more.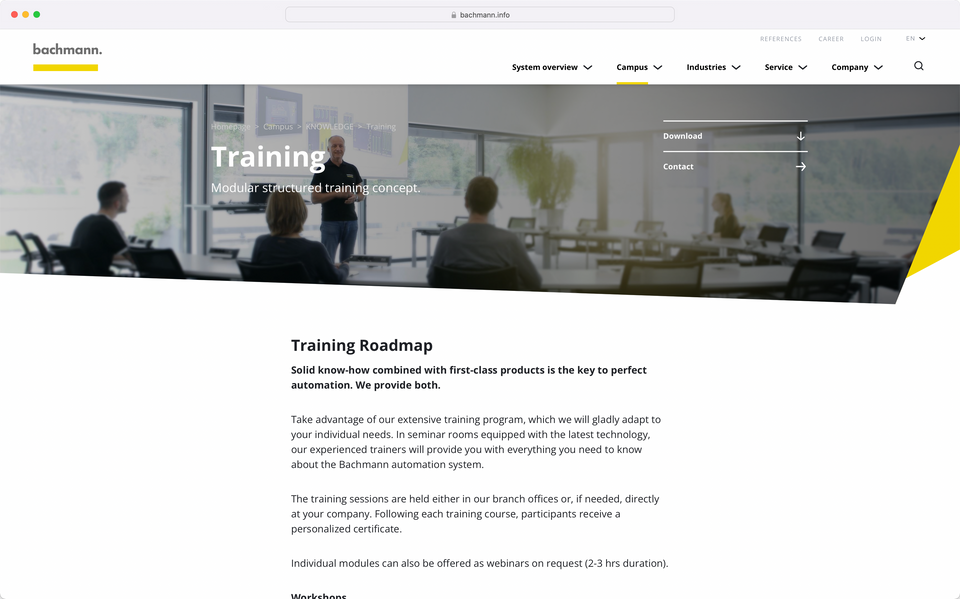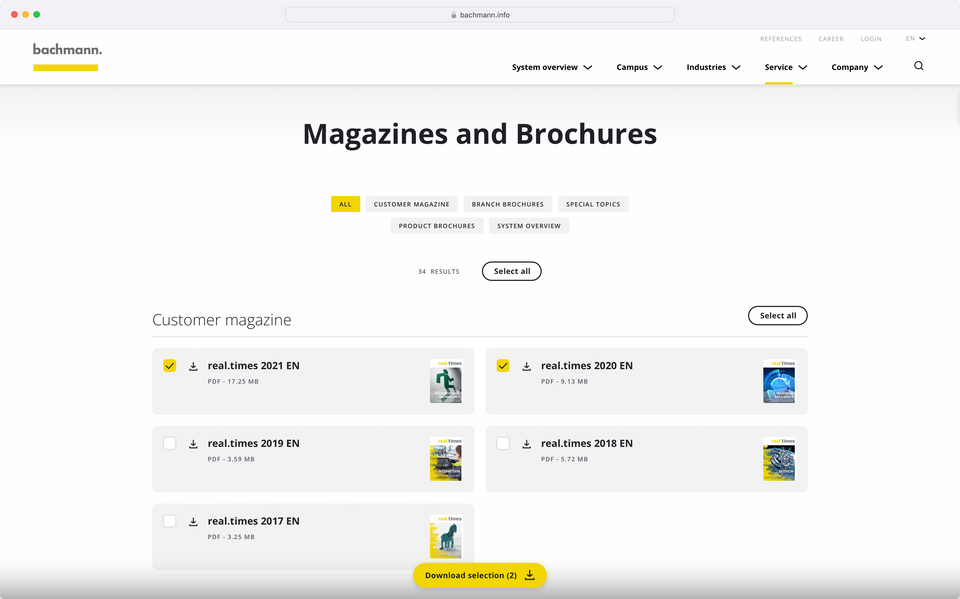 MASSIVE ART also updated Bachmann's Download Center, which is packed with useful resources. Bachmann wanted to make it easy for users to locate and place the resources they needed into their shopping cart. With the MASSIVE ART redesign, users can easily filter, select, compress, and download all the files they need.
MASSIVE ART created a welcoming website for Bachmann's technical users
Sulu's modular features enabled MASSIVE ART to deliver a revamped, modern website to Bachmann that helped point their technically-inclined customers in the right directions.
Learn more about how Sulu CMS can help create amazing projects for your clients.
Concept, design and implementation by