datenwerk innovationsagentur is a renowned digital agency based in Vienna, Austria specializing in the digital transformation of public-sector institutions. One such client is the Kinderfreunde, an organization that lobbies for children's rights and helps families find resources like childcare and local activities. When the Kinderfreunde required a new website, they turned to datenwerk, who chose to implement Sulu. Not only was Sulu an open-source content management system (CMS) that integrated with their existing Symfony components, but its values were consistent with those of datenwerk and their customers. Since then, datenwerk has used Sulu in four further projects and is now a Sulu Gold Partner.
Based in Vienna, datenwerk is part of Team Farner, a rapidly growing, pan-European communications agency group headquartered in Switzerland. datenwerk's 70+ clients include many public-sector agencies, which have somewhat different requirements from private companies: they don't respond to traditional market pressures, and face especially stringent legal obligations. "The fact that Sulu is a European solution is important because of GDPR and other legal frameworks," said datenwerk's Managing Director, Wolfgang Zeglovits.
datenwerk has focused on implementing open-source solutions since 2006. "Many clients had undergone bad experiences with proprietary content management systems because they had to change the system with every relaunch," Zeglovits. "We chose not to focus on one provider, but on open source — for legal reasons, and because of its public orientation, and the communities you can tap into."
Open source doesn't just make business sense for datenwerk. It also aligns with the values of their public-sector clients — like the Kinderfreunde.
Powerful integration potential out of the box saves time, improves security, and scales to new projects
When the Kinderfreunde came to datenwerk in 2019, their website needed two main improvements. Firstly, it needed to be more user focussed. The Kinderfreunde is a large organization, with branches and members in all Austrian federal states — a hierarchical structure that was reflected in the design of the site. However, this made it difficult for users to find the services offered by the Kinderfreunde, like childcare.
Secondly, the site needed functionality for local volunteer organizations to post information on their activities. Many such local groups were relying on social media to keep people up to date. Ideally, this content would also be available, and searchable, on the Kinderfreunde's own site.
datenwerk worked with the Kinderfreunde to come up with a new model for their website during a design sprint. But they needed a technical solution to implement their ideas.
"Owing to the complex demands of our clients, we had begun to work increasingly with Symfony to build web applications that included more elaborate functionality than a content management system allowed," said Wolfgang Zeglovits. datenwerk knew they would use Symfony to deliver the Kinderfreunde website, but they ideally wanted to find a content management system based on the PHP framework.
And so they found Sulu. "Sulu's ability to integrate with our existing Symfony components was a decisive advantage," said Zeglovits. On the one hand, datenwerk had the content management system required by editors and contributors. On the other, they could get to work faster on the extra functionality the Kinderfreunde needed. "We'd either have had to build that ourselves in Symfony," Zeglovits added, "or we'd have had to use another CMS with plugins and extensions. That's not practical from an administrative perspective, and also poses a security risk."
With Symfony compatibility out of the box, Sulu was also perfectly placed to scale to future projects. "Other solutions didn't offer the same scaling potential as a system that could potentially do anything, but also included a performant CMS," said Wolfgang Zeglovits.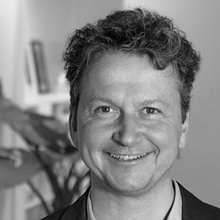 Sulu's whole architecture and technology stack is outstanding. It fits our needs perfectly.
Wolfgang Zeglovits, CEO – datenwerk innovationsagentur GmbH
A quick start thanks to excellent onboarding
With Sulu and Symfony, datenwerk could build the functionality required by the Kinderfreunde website. In the first project phase, they made a simple filter that would let users see relevant information for their area in a single click. In the second phase, they created a secure frontend portal for local volunteers to submit posts, which could then be stored in the Sulu backend.
When it came to implementing Sulu, datenwerk was particularly impressed with the onboarding process. "The onboarding confirmed our decision to go with Sulu, and we have gone on to use it in five projects," said Wolfgang Zeglovits.
datenwerk's technical lead Melanie Groissmaier described the process: "We had three sessions with a Sulu developer, who presented the architecture to us and the different bundles that were available. We asked about the demands of our current project: What is the best way to implement it in Sulu? That was very helpful."
Melanie Groissmaier continued: "Soon after these workshops we began with the implementation. The knowledge was still fresh, and we made great progress."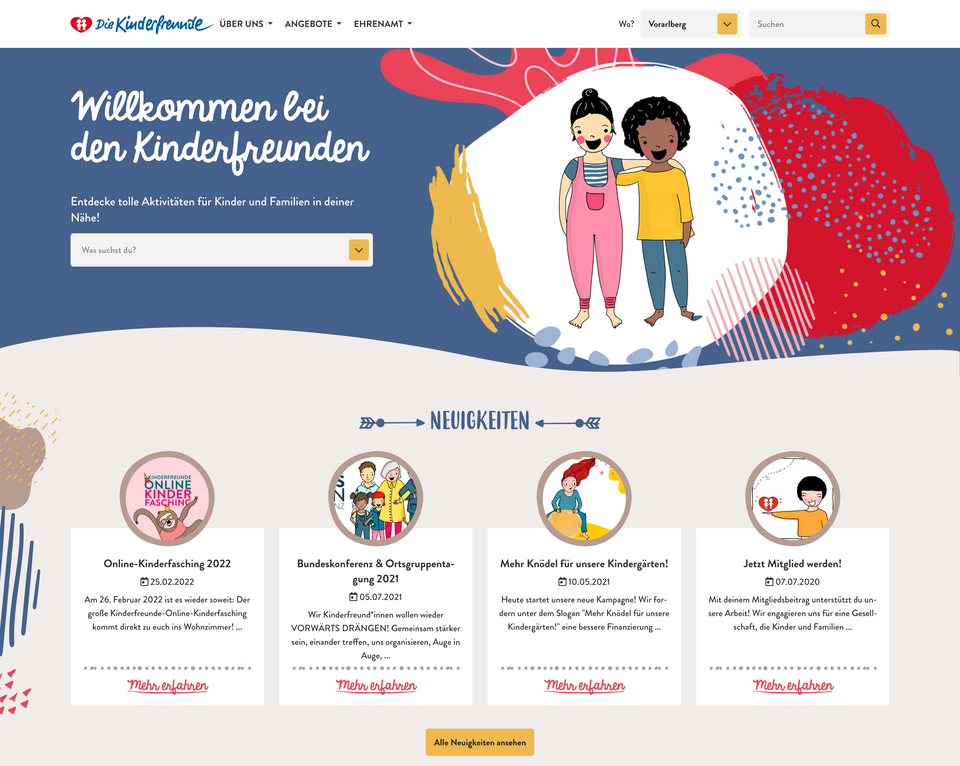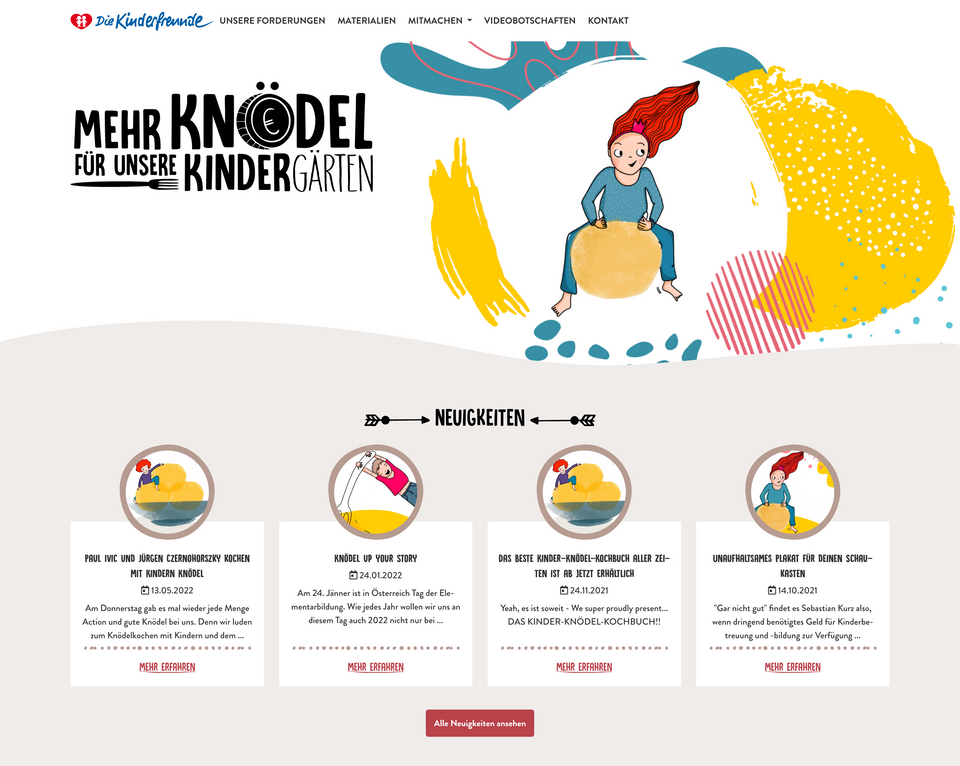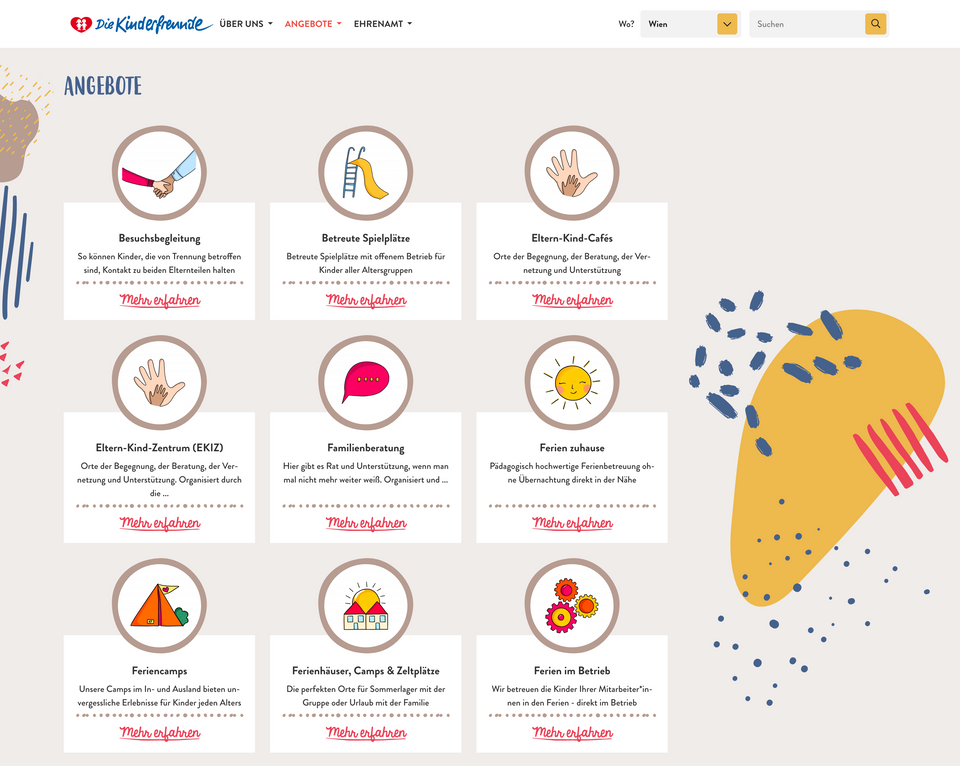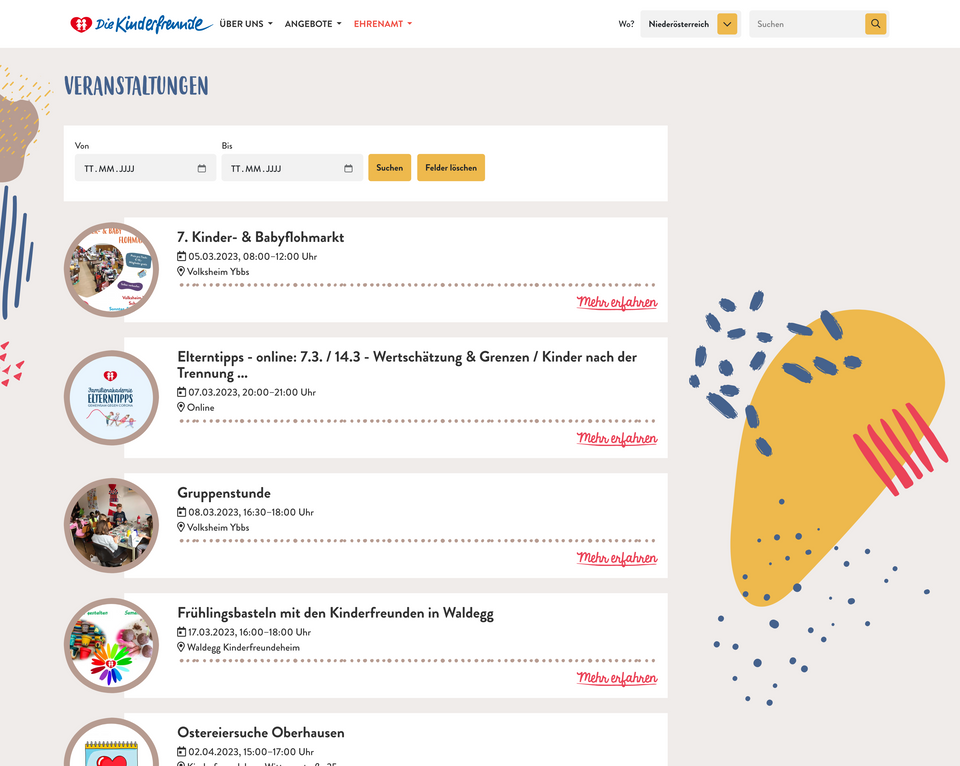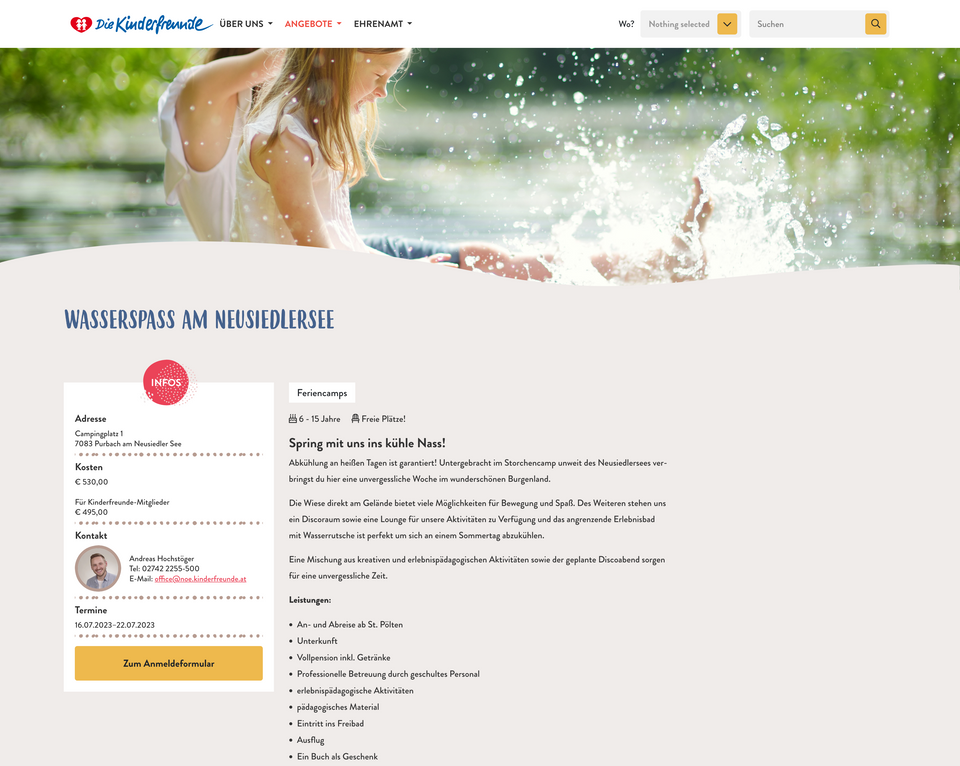 Happy clients and long-term relationships
The improvements to the Kinderfreunde website were already obvious after the first project phase. "We received really positive feedback. People could find what they needed much better than before," said Wolfgang Zeglovits. datenwerk went on to build the portal required by local volunteers, and has continued to work closely with the Kinderfreunde since 2019 to improve the site further. "They were happy then, and they still are!" he added.
datenwerk has now used Sulu in a total of five projects, including work for the Karl-Renner-Institut — whenever a more elaborate marriage of web application and CMS is required. After the first three projects, datenwerk chose to become a Sulu Gold Partner so as to benefit from extended support and prioritized feature requests.
"Sulu is one of many solutions for us. But once a project reaches a certain size, it's currently our favorite solution," remarked Wolfgang Zeglovits.
Zeglovits also looked forward to potential future projects involving Sulu. "I think everything is moving in the direction of headless. We can see potential in developing a mobile app driven by user content that uses Sulu," he said. "We also have some existing clients who need integrations with operating systems — for example, in the e-learning space — and we hope to be able to cover most of their needs with Sulu, rather than build our own middleware."
Are you also looking for a performant content management system that can be the basis of powerful web applications? Then take a look at Sulu, the Symfony CMS.