2021-02-04
Sulu Release 2.1.8 & 2.2.4
We are happy to announce that we released two new versions of the Sulu content management platform, Sulu 2.1.8 and Sulu 2.2.4.
Both releases contain several bugfixes and improvements. Additionally, the releases include preparations for future bundle releases like the AutomationBundle and the RedirectBundle. Furthermore, we are eagerly working on compatibility with PHP 8.0.
Release 2.1.8
The most important bugfixes are listed below. Underlying those changes are many small improvements for a better developer and user experience, and compatibility with PHP 8.0.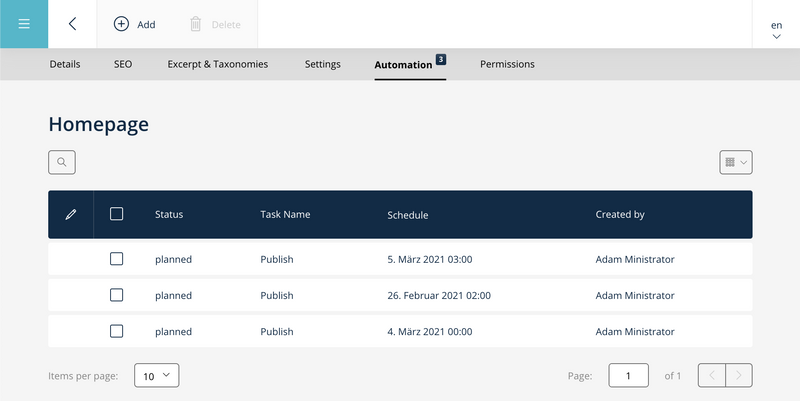 Release 2.2.4
In addition to all changes of the 2.1.8 release, the 2.2.4 release contains the following improvements:
In Sulu 2.2 we introduced segments for pages. Unfortunately, we forgot to implement a fallback if the excerpt tab was overridden in a project. Overridden excerpt tabs don't have the segments field and thus an exception is thrown. This has been fixed. Thank you Quehnie for the bug report.
The additional feature for this release is the UploadToolbarAction. This action is required for the next RedirectBundle release. The action allows you to add custom actions for uploading files. In the RedirectBundle this is used to upload a CSV file and import the redirects from the file.
Upgrading your installation
We encourage you to have a look at our Upgrading Sulu 2.x documentation when upgrading your project. The documentation provides a step-by-step guide to upgrading Sulu in your projects. Feel free to contact us if you have any questions or problems during the upgrade process.
AutomationBundle and RedirectBundle to be released soon
Finally, we would like to thank you all for the reported issues and feature requests. Contributions and discussions are always welcome!
As you most likely already read out of the changes, we hope to announce the release of the AutomationBundle and the RedirectBundle in the near future. Furthermore we will try to achieve PHP 8.0 compatibility in the next release. You can check the current progress on the PHP 8.0 Roadmap.
We are always looking forward for your feedback about newly released features and bugfixes. Feel free to create an issue or a discussion on Github about bugs and feature requests. You can also contact us anytime via our Slack channel.